Description
Plastica Eco Pools
Whatever the size or shape of your garden, there's a pool for you. Wooden pools have transformed the luxury of owning a pool into an affordable treat for your family. The Eco range has been specifically designed to give you the luxury of a wooden pool at an even lower cost. Having a pool is a not an unachievable dream after all! Built with a redwood wall structure, the Eco has finishing accessories (shelving brackets and supports) in 44mm timber uprights. The external ladder and top shelving are made solely of softwood and corner cover plates with economy in mind. As the name suggests, it is an economy pool without losing the quality. Available in 3 sizes.
Complete Package
Comes complete with everything you need to construct and enjoy your own pool in a matter of days.
Affordable and Long Lasting
Probably the most affordable range of quality pools on the market. Made of natural high grade red wood with a 10 year warranty on the structure. Eco wooden pools blend beautifully into the landscape and give years of pleasure.
Small Eco 4m Octagonal –  External Dimensions: (L)4.240m (W)4.240m, Internal Dimensions: (L)3.695m (W)3.695m (H)1.177m, Water Volume: 11500 Litres, 2500 Gallons
Large Eco 5.5m Octagonal – External Dimensions: (L)5.600m (W)5.600m, Internal Dimensions: (L)5.082m (W)5.082m (H)1.177m, Water Volume: 21400 Litres, 4700 Gallons
Large Stretched Eco – External Dimensions: (L)8.045m (W)5.600m, Internal Dimensions: (L)7.527m (W)5.082m (H)1.177m, Water Volume: 34200 Litres, 7523 Gallons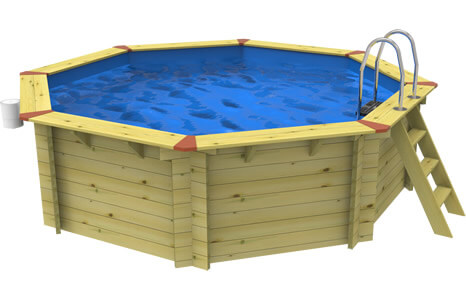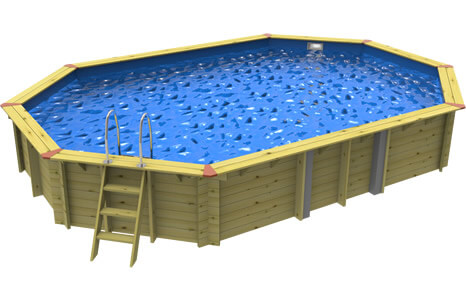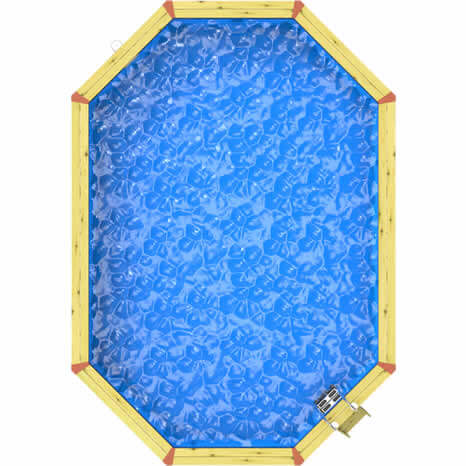 Package contains:
• Redwood Wall Structure
• Two Piece Softwood Top
• Corner Cover Plates
• 0.5mm (20thou) Plain Blue Liner
• Internal Stainless Ladder
• External Softwood Ladder
• Felt Underlay for floor
• Skimmer and Return Fitting
• iFLO 500mm Sand Filter
• 6-way Multiport Valve
• 0.75hp Pump
• Flexible Pipe and Fittings
• Installation Manual
10 year parts only warranty to the timber structure
Delivery 8-10 weeks
*Please note: Free Delivery to Mainland England and Wales. For all other areas please call for a quotation giving your postcode, thank you.