Description
Plastica Premium Wooden Pool Kits
Whatever the size or shape of your garden, there's a pool for you. Wooden pools have transformed the luxury of owning a pool into an affordable treat for your family. The Plastica Premium Wooden Pool range comes in a wide variety of shapes and sizes to create a beautiful feature in your garden. You can fit it above ground, below ground or partially in-ground – whatever suits your needs.
Handmade in Britain by a highly experienced team to get the best performance. The liners have a protective lacquer coating and all products are manufactured to ISO 9001 quality standards. The walls of the pool are precision cut from pressure-treated redwood. This treatment preserves it against decay, fungal and insect attack. The walls have a 10 year warranty. Plastica has over 45 years experience in manufacturing liners, covers, reel systems and much more from their large state of the art facility in East Sussex.
There is no doubt that swimming is the best exercise you can do. It burns calories and strengthens muscles without impacting upon joints and is a great stress reliever too. A counter current system allows you to use your wooden pool as an exercise pool, massager and regular fun pool! Most systems have a jet sitting about 30cm below the surface of the water. You can vary the flow rate so it suits all the family. Some may want massage or gentle exercise while others want a long distance, ever increasing resistant current! All controls are accessible from within the pool. You can change your mind and easily amend the settings or switch it on or off .
The Exercise Pool – comes with a choice of four over the wall Counter Current Systems to accommodate most users and features the Strap System. With the Strap System no steel braces are required, so you can start building immediately. You are guaranteed to save time and money with a simple and quick build time. The Exercise Pools can be fitted directly to a level hard surface. The straps are stainless steel for long-lasting durability, ensuring anti-corrosion.
External Dimensions: (L)4.434m (W)2.994m        Internal Dimensions: (L)3.916m (W)2.426m (H)1.177m
Water Volume: 8150 Litres, 1795 Gallons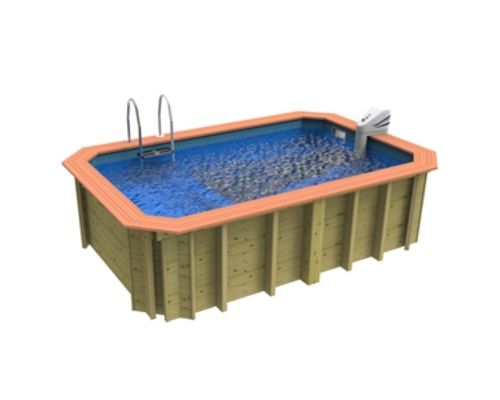 You have the option to choose the complete pool package and add any optional extras or choose each component separately (see sperate listing).
Complete Pool Package Contains:
Structure Kit (contains stainless steel strap system)
Badu Perla 1.6kW Counter Current System
iFlo Filtration Kit
Plain Liner 
Maintenance Kit
Structure Kit Contains:
A robust timber structure – Using 44mm pressure treated redwood timber, which is all selected from renewable sources. Included are all necessary timber supports and fixings, along with an external wooden ladder and removeable internal Stainless Steel ladder.
An exotic two piece hardwood top shelving – Featuring our own reversible bespoke profile, designed to make fixing as neat as possible using our plug and pellet hidden fixings.
Metal Braces – For pools that require metal braces these are included in the structure kit. On premium pools, these are cleverly boxed in to keep the wonderful timber aesthetics.
Foam and Felt Underlay – Giving our tailored liners a beautiful soft touch as well as added protection, complete with spray adhesive and underlay tape.
White goods kit – Wide mouth skimmer, return and low level suction where appropriate.
Filtration Kit – Comes with the reliable iFlo 0.75hp pump and filter package as well as essential plumbing kit to complete your installation.
Plain Liner
Maintenance Kit contains:
Backwash Hose
Chemical Starter Kit
Vac Head
Vac Hose
Telescopic Pole
Leaf Net
Brush
Optional Extras:
Heating – If you are looking to heat your wooden pool, we have specified our recommended heating methods for you to choose from.
Liner options – Choose from Plain, Plain with Tileband or an All-over patterned Liner. There is a wide selection of styles and patterns to choose from.
Filtration – Up-grade by choosing our own British-made Argonaut Pump and Filtration package for an even better performance. (Upgraded Argonaut package comes as standard for our flagship 'Chelsea' Wooden Pool, including plumbing with 2 main drains – extra fittings available if plant is situated away from pool.)
Lighting – With the hugely successful Mini Chroma Lights we have produced a complete Lighting Package for Wooden Pools. Available in brilliant white or full remote-control colour-change setup.
Wooden Pool Pipework Kit – Pipework kit for addition of electric heaters or other plant.
Counter Current System options –
Stella Single phase 3kw White LED Counter Current System
Stella Single phase 3kw RGB LED Counter Current System
Aquajet 100 1.1kW Counter Current System
Badu Perla 1.6kW Counter Current System
Badu Riva 2.2kW Counter Current System
10 year parts only warranty to the timber structure
Delivery 8-10 weeks
*Please note: Free Delivery to Mainland England and Wales. For all other areas please call for a quotation giving your postcode, thank you.